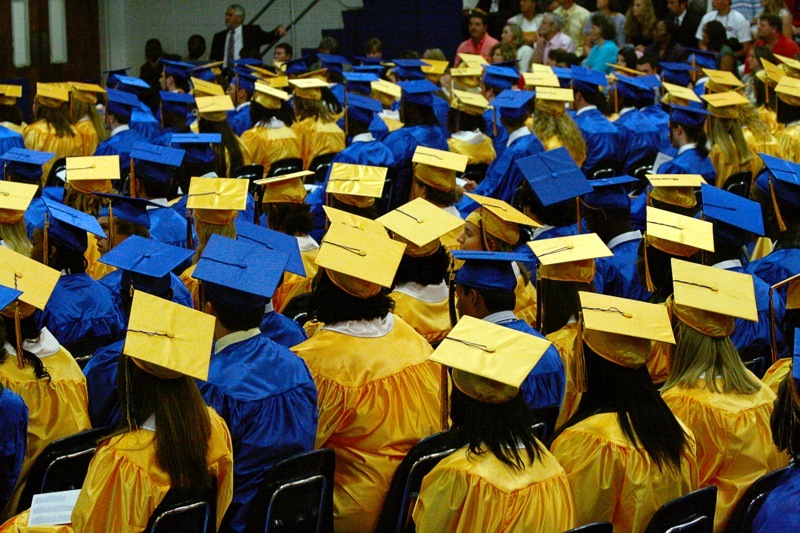 Later this month and early next month, the class of 2015 will be graduating from high schools all over Texas. They will be one of the last classes to graduate under the existing graduation requirements. Students entering high school in 2014 and following years will graduate under the requirements of House Bill 5, which lays out new guidelines in the form of the Foundation High School Program.
Students graduating in 2015, 2016, and 2017 will have the option to graduate under either system. To help families during this transitional period understand their choices, and to help parents of future high schoolers understand the requirements, we've composed this helpful guide.
The Old Requirements
The system which the High School Foundation Program is replacing actually consists of three tracks with different sets of requirements. The Recommended High School Program, which a significant majority of students follow, mandates 26 credit hours in the following breakdown:
four credits in English
four credits in math
four credits in science
four credits in social studies
two credits in a second language
one credit in PE
one credit in fine arts
one half credit in speech
five and one half credits in electives
In addition to taking the requisite classes, students must pass STAAR tests in several required subjects: algebra I, biology, US history, English I, and English II.
The Distinguished Achievement Program, designed for academically gifted students, differs only slightly from the Recommended High School Program in terms of required coursework. The DAP substitutes a third language credits for one of the RHSP's required language credits. However, the Distinguished Achievement Program also has requirements that go beyond coursework. In order to qualify for a Distinguished Achievement Diploma, a student must meet four of the following criteria or "measures":
an original research project judged by and presented for an audience of professionals
a PSAT score which qualifies for the "Commended Scholar" rank
a grade of 3.0 or higher in a dual enrollment class
a score of 3 or higher on an AP exam
a score of 4 or higher on an IB exam
Each separate exam score counts as a distinct measure, so a student who takes several AP or IB exams has good chances of qualifying. A Distinguished Achievement Diploma serves as a tangible certification of a student's excellence, and being on-track to graduate in this program would be looked upon favorably in the college admissions process.
For students who have significant difficulties with academics or who want to finish high school early, there is the Minimum High School Program, which requires 22 credits. In order to qualify for this program, a student must meet one of the following criteria:
they must be 16 or older
OR they must have taken at least two credits in each of the four core subjects
OR they must have failed ninth grade at least once
The student and their guardians must opt in to the Minimum High School Program in order for a student to graduate under it. The MHSP is dispreferred for students who could meet the requirements of the other two programs, since it is less effective at promoting college readiness and does not confer eligibility for the Texas Scholars Program.
The New Requirements: Overview of the Foundation High School Program
The High School Foundation Program consists of a single academic track which can be customized with one or more of five "endorsements." The basic academic track requires 22 credit hours, as compared to the 26 of the RHSP and DAP. However, if a student takes an endorsement – as a significant majority of students are expected to do – the additional curricular requirements bring the total back up to 26 credit hours.
The differences in specific subject-area requirements, without accounting for endorsement guidelines, are outlined in the table below.
Table 1: Side by Side Graduation Programs. Source: TEA.
| | | | | |
| --- | --- | --- | --- | --- |
| Subject Area | Foundation HSP | MHSP | RHSP | DAP |
| English Language Arts | 4 credits | 4 credits | 4 credits | 4 credits |
| Mathematics | 3 credits | 3 credits | 4 credits | 4 credits |
| Science | 3 credits | 2 credits | 4 credits | 4 credits |
| Social Studies | 3 credits | 3 credits | 4 credits | 4 credits |
| Physical Education | 1 credit | 1 credit | 1 credit | 1 credit |
| Languages Other than English | 2 credits | 0 credits | 2 credits | 3 credits |
| Speech | Demonstrated Proficiency | 0.5 credits | 0.5 credits | 0.5 credits |
| Electives | 5 credits | 7.5 credits | 5.5 credits | 4.5 credits |
| Total | 22 credits | 22 credits | 26 credits | 26 credits |
Endorsements
What really sets the Foundation High School program apart is the endorsements. These are essentially the high school version of college majors; by taking "a coherent sequence or series of courses" in one of five areas, students can earn a diploma with an endorsement in that area.
The five endorsements available to students are STEM, Business and Industry, Public Services, Arts and Humanities, and Multidisciplinary Studies. The requirements for each are laid out in the table below. Each high school must offer courses leading to at least one endorsement, but not every school will offer every endorsement. (See the breakdown of endorsements offered by HISD's high schools, for example.) The precise "coherent sequence of courses" which can be used for an endorsement is determined on the district level.
Table 2: Curricular Requirements for Endorsements. Source: TEA.
STEM
A coherent sequence or series of courses selected from one of the following:
-CTE courses with a final course from the STEM career cluster
-Computer science
-Mathematics
-Science
-Any combination of two of the above
Business & Industry
A coherent sequence or series of courses selected from one of the following:
-CTE courses with a final course from the Agriculture, Food, & Natural Resources; Architecture & Construction; Arts, Audio/Video, Technology, & Communications; Business Management & Administration; Finance; Hospitality & Tourism; Information Technology; Manufacturing; Marketing; Transportation; or Distribution & Logistics CTE career cluster
-The following English electives: public speaking, debate, advanced broadcast journalism including newspaper and yearbook
-Technology applications
-A combination of credits from the categories listed above
Public Services
A coherent sequence or series of courses selected from one of the following:
-CTE courses with a final course from the Education & Training; Government & Public Administration; Health Science; Human Services; or Law, Public Safety, Corrections, & Security career cluster
-JROTC
Arts & Humanities
A coherent sequence or series of courses selected from one of the following:
-Social studies
-The same language in languages other than English
-Two levels in each of two languages in languages other than English
-American Sign Language (ASL)
-Courses from one or two categories (art, dance, music, and theater) in fine arts
-English electives that are not part of Business & Industry
Multidisciplinary Studies
A coherent sequence or series of courses selected from one of the following:
-Four advanced courses that prepare a student to enter the workforce or postsecondary education without remediation from within one endorsement area or among endorsement areas that are not in a coherent sequence
-Four credits in each of the four foundation subject areas to include English IV and chemistry and/or physics
-Four credits in AP, IB, or dual credit selected from English, mathematics, science, social studies, economics, languages other than English, or fine arts
The endorsement system also accommodates students with multiple interests – it is possible to earn more than one endorsement. So long as a student completes four credits each of math and science and two additional elective credits – those being the foundational requirements for all endorsements – the student can earn any endorsements for which they fulfill the curriculum requirements.The Foundation requirements depart from the prior systems in that they allow students to take relatively fewer courses in some areas and make up the difference in other areas which are more interesting or relevant to them. For instance, a student who wants to be an engineer could opt to take only three years of social studies and focus on computer science classes instead. However, this does not apply equally for all endorsement subject areas, because every endorsement requires four credit hours of both math and science. So for instance, a student pursuing the Arts and Humanities endorsement could not choose to skip out on the fourth year of math or science.
The ability to earn multiple endorsements is made possible in part by the fact that a single course can be used to satisfy both the core requirements and the requirements for an endorsement, or the requirements for two distinct endorsements. This potential for overlap allows students greater flexibility in their courses of study.
At first glance, the endorsement system seems a bit odd – concrete specializations have traditionally been the preserve of higher education, while grade school has been seen as more geared towards providing a general foundation. However, while high school undeniably plays a role in foundation-building, electives have always offered room for more specialized study. And the creation of concrete groupings of courses for specialized endorsements has definite benefits.
The endorsement system allows students to pursue a more structured and thorough investigation of their area(s) of interest, but more importantly, it provides official documentation of students' dedication to those areas. An endorsement on a student's diploma denotes that they have deliberately set out to develop their knowledge more deeply in that subject, and confirms that they have achieved proficiency in that subject according to the state's criteria. In-state colleges and universities will understand the significance of endorsements, and even out-of-state schools will recognize that an endorsement marks deliberate study relevant to a student's prospective major. Additionally, pursuing multiple endorsements and/or earning a DAP endorsement or Performance Acknowledgement (see below) provides students with an additional means of demonstrating excellence to college admissions officials.

Provisions for Academically Gifted Students
The Foundation High School Program also differs somewhat from the prior system in the way it handles students at the edges of the bell curve. There are still provisions for high achievers and struggling students, but the form of these provisions has changed.
Under the former program as outlined above, students who excelled academically could earn a Distinguished Achievement Diploma by fulfilling minimal additional curricular requirements and demonstrating excellence in key metrics beyond simple coursework. Under the new program, this has been replaced by two endorsements which supplement the main five – the Distinguished Level of Achievement endorsement and the Performance Acknowledgements endorsement.
The DLA endorsement can be earned by any student who completes the requirements for one or more endorsements: it requires four credits of math and four credits of science (both prerequisites for any endorsement) plus the completion of curricular requirements for at least one of the primary five endorsements. This renders it more attainable to more students, though it correspondingly lowers the award's value as a mark of achievement. However, the DLA endorsement does have one key benefit for in-state college admissions – under the new rules, a student must earn the DLA endorsement to be eligible for top 10% automatic admission.
The Performance Acknowledgements make up for the DLA's more general nature by highlighting student achievement in specific areas. Performance Acknowledgements may recognize any of the following:
12 or more hours of dual enrollment coursework with a B average or better
completion of an associate's degree or a nationally or internationally recognized business certificate
bilingualism (as measured by TEKS English proficiency and AP, IB, or other testing in another language)
a score of 3 or more on an AP exam
a score of 4 or more on an IB exam
a Commended Scholar qualifying score on the PSAT
a score of 1250 or more on the SAT
a score of 28 or more on the ACT
Students can earn multiple Performance Acknowledgements. This is an advantage over the old system, under which students would only be recognized for the one-size-fits-all "Distinguished Achievement" if they earned the equivalent of four Performance Acknowledgements. With the Foundation High School Program, students who attain one of the above will still be recognized for it, and students who go beyond four will be recognized duly for each one.
Provisions for Academically Challenged Students
Under the former system, the Minimum High School Program was provided for students who, for whatever reason, could not complete 26 credits. Under the MHSP, only 22 credits were required, with no language credits required and fewer credits required in subjects other than English.
Under House Bill 5, there is no program explicitly outlined for academically challenged students or those who need to graduate more quickly. However, a track for them is built into the program by default. The Foundation High School Program assumes that a student will take at least one endorsement, and thus complete 2 credits. If a student chooses not to take an endorsement, however, only 22 credits are required; the only significant difference between these basic requirements and the MHSP is that two language credits are now required of all students.
Formerly, students had to opt in to the MHSP; now, in order to graduate without an endorsement, a student must opt out of the endorsement offerings. The old and new parent agreements even use much of the same language. The basic track sans endorsements fulfills the same function now as the MHSP did under the old guidelines.
Summary of Changes
The former graduation requirements offered three distinct tracks – one for academic high achievers, one for the majority of students, and one for academically challenged students or those who wished to graduate early. The new Foundation High School Program offers a single unified track, but one which is customizable with many options. Most students will choose to take at least one endorsement; this will help them to develop their interest in a specific area in a way which will help to prepare them for a relevant college major. By taking an endorsement, students will earn the same number of credits as they would have under the RHSP or DAP under the old system, and they will also be eligible for the Distinguished Level of Achievement supplementary endorsement. Students who are high achievers may also earn one or more Performance Acknowledgements to set themselves apart, while students who are academically challenged can choose to graduate with only 22 credits.
In short, the Foundation High School Program has the same foundational requirements as the programs which it is replacing, and it meets the needs of diverse students in similar ways. It goes beyond the old programs, however, by providing students with more choices and greater flexibility in course selection.
Resources
The TEA page on House Bill 5 is a great place to learn more. It includes links to FAQs on the general requirements and the endorsements program, as well as documents which give further details on all aspects of the Foundation High School Program discussed above.