Earlier this week, CBS New York reported that a Long Island senior, Harold Ekeh, had been accepted to all eight Ivy League schools. And over the past few days, reports have trickled in about four more students who also achieved the Ivy League sweep this year. This is a truly amazing feat for each of them. How did they do it? And what can your child learn from their example?
Harold Ekeh, salutatorian of Elmont High School, migrated from Nigeria to the US with his parents when he was young. His resume is quite impressive. He has a GPA of 100.5 on a 100-point scale and scored a 2270 on the SAT. He plays the drums, is involved in school plays, edits the school newspaper, and conducts a youth choir. He also does scientific research relating to a potential cure for Alzheimer's; his interest in this area was sparked by his grandmother's diagnosis with the disease. For his research, he was recognized as a semifinalist by the Intel Science Talent Search. He intends to study biochemistry and go on to be a neurosurgeon, so that he can continue to work towards finding a cure for Alzheimer's.
Victor Agbafe, a senior at Cape Fear High School in Wilmington (class rank unknown), has much in common with Ekeh – he is of Nigerian descent, and he wants to study biochemistry (along with economics or poli sci). He, too, wants to become a neurosurgeon, following in the footsteps of his doctor mother. But he has his own distinct set of achievements, including playing varsity basketball, and his academic record is stellar. (For more information on his achievements as it becomes available, see Wilmington's WECT 6.)
Stefan Stoykov, valedictorian of North Central High School in Indianapolis, migrated from Bulgaria to the US with his parents when he was young. He was raised by his mother, whose perseverance and sacrifices were the subject of his Common App essay. Having begun his American academic career speaking no English whatsoever, he worked hard and rose to the top of his class. As Fox 59 and the Indianapolis Star report, his achievements include a perfect 2400 on the SAT, a National Merit Scholarship, and membership in the National Honor Society, as well as involvement in the school's Student Council, Spirit Week, Science Olympiad, and Academic Quiz Bowl. He is a graduate of the IB Diploma Programme, but also took enough AP classes to earn the title of National AP Scholar. He also tutors fellow students after school.
Munira Khalif, a senior at Mounds Academy in St. Paul (class rank unknown), is the daughter of Somali immigrants. As Fox 9, KARE, and Pioneer Press report, she has a long list of stellar accomplishments, many of them related to activism. She founded a Social Consciousness Club at Mounds Academy, and outside of school, she founded a nonprofit called Lighting the Way which supports education for rural African girls. She has served as a youth ambassador for the UN's Girl UP campaign and for the A World at School campaign, both of which promote access to education. For her advocacy, she has been recognized by the UN Special Envoy for Global Education with the Youth Courage Award, an honor which has been bestowed on only nine people. She intends to major in political science and embark on a career of advocacy for girls' education and global education.
Ronald Nelson, a senior at Germantown's Houston High School (class rank unknown), is a native of Tennessee. As Action News 5 and Fox 13 Memphis report, Nelson is a hardworking student who has always put a lot of effort into academics. He has a 4.5 GPA on a weighted 4-point scale; he scored a 34 on the ACT, and a 2260 on the SAT. He is both a National Merit Scholar and National Achievement Scholar. He is heavily involved in the school's marching band, for which he is currently a drum major, and he also tutors fellow students after school. He isn't sure yet what he wants to do, but he's leaning towards medicine. He is considering majoring in Spanish to work towards eventually joining Doctors Without Borders.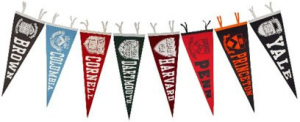 As the variety in these students' backgrounds and accomplishments demonstrates, highly selective colleges and universities don't have one set template for "the perfect student." There is no checklist your child can use to guarantee admission to a good school. But there are some key features that these students have in common.
An article in yesterday's Business Insider pointed out that most students who achieve the Ivy sweep, this year and in the past, are the children of immigrants. While it doesn't hold true 100% of the time, it is an interesting trend. It isn't as though the Ivies are specifically seeking out first and second generation students, after all. Rather, what sets these students apart is their motivation, hard work, and desire to make a positive difference in the world. An immigrant background tends to cultivate all of these qualities, but they're qualities any student can develop.
Stefan Stoykov is motivated by his sense of his mother's hard work and sacrifice. Ronald Nelson is motivated by his desire to succeed academically. What motivates your child? What is their passion? Encourage them to tap into it and pursue the goals they truly believe in. Motivation is important for academic success, and indeed success of any kind. If your child is as strongly motivated as these students, they will stand a much better chance of gaining admission to a selective university – or doing anything they set their mind to.
When it comes to college admissions, of course, the value of academic credentials cannot be overlooked. These students' records show that while it may not be necessary to ace the standardized tests, one does have to score fairly well on them – generally in the 92nd percentile or better. And these scores must be backed up with a strong school record – straight As or close to it, with a healthy dose of challenging classes. In order to attain the academic achievements that selective colleges seek, students must work extremely hard. Does your child understand the value of hard work? Motivation is a big factor here, but good parenting also plays a big role in getting kids to work hard.
The third characteristic is perhaps the hardest for a child to develop on their own. What makes a person want to make the world a better place? For Munira Khalif, the catalyst was her family's emphasis on equal education for women and her mother's experience of growing up in an environment where that was the exception rather than the norm. For Harold Ekeh, it was his desire to help his grandmother – and everyone else who suffers from Alzheimer's. In short, these students' altruism is inspired by their families and their upbringing.
While there's nothing that you as a parent can do to guarantee your child's eventual admission to a good college, you can help them to develop the characteristics of Ivy-sweeping students by raising them to work hard, follow their dreams, and care for others.