This article was updated on 12/15/14 to reflect the latest score requirements. One of the most widely espoused figures schools will use to promote their graduates' level of college-readiness is the number of National Merit Semi-Finalists their junior class had in the annual National Merit Scholarship Competition.  This competition takes place annually every fall, usually October, for high school juniors.  Juniors compete by sitting for what is essentially an abbreviated, practice SAT (PSAT).
Why Semi-Finalists Designation Matters
Semi-Finalists, the most important designation, represent the approximate top 1% of test takers.  The cut-off score to obtain this designation in Texas in the 2011-2012 and the 2012-2013 Competition was a 219, which translates into an SAT score of 2190; the 2010-2011 cutoff was just 215.  National Merit Semi-Finalists generally qualify for scholarships that can range from full tuition at certain public colleges to $5,000 and $10,000 scholarships at prestigious, private universities.
Approximately 15,000 out of 16,000 semi-finalists then go on to be designated finalists.  Lastly, a little over half of the finalists are designed "Merit-Scholarship" recipients, meaning that they get the fancy title and $2,500 cash payment.  Scholarship winners are selected "based on their abilities, skills, and accomplishments."
Commended Scholars and Special Competitions
In addition to the coveted "Semi-Finalist" designation, students may also qualify as a "Commended Student."  The national cut-off score in the 2011-2012 competition was a 201, but increased to 203 for the 2012-2013 competition, equating to approximately the top 5% of test-takers.  Unfortunately, Commended Students, generally do not receive significant benefits.  Hispanic and African American students may also compete in the National Hispanic Recognition Program and the National Achievement Scholarship Program (African Americans).
Last Four Years of Semi-Finalists (and Commended) Cut-Off Scores in Texas 
2010 – 2011 – 215 (201 for Commended)
2011 – 2012 – 219 (201 for Commended)
2012 – 2013 – 219 (203 for Commended)
2013 – 2014 – 218 (203 for Commended)
Source: National Merit Scholarship Corporation
2014 Distribution of National Merit Semi-Finalists among Houston Schools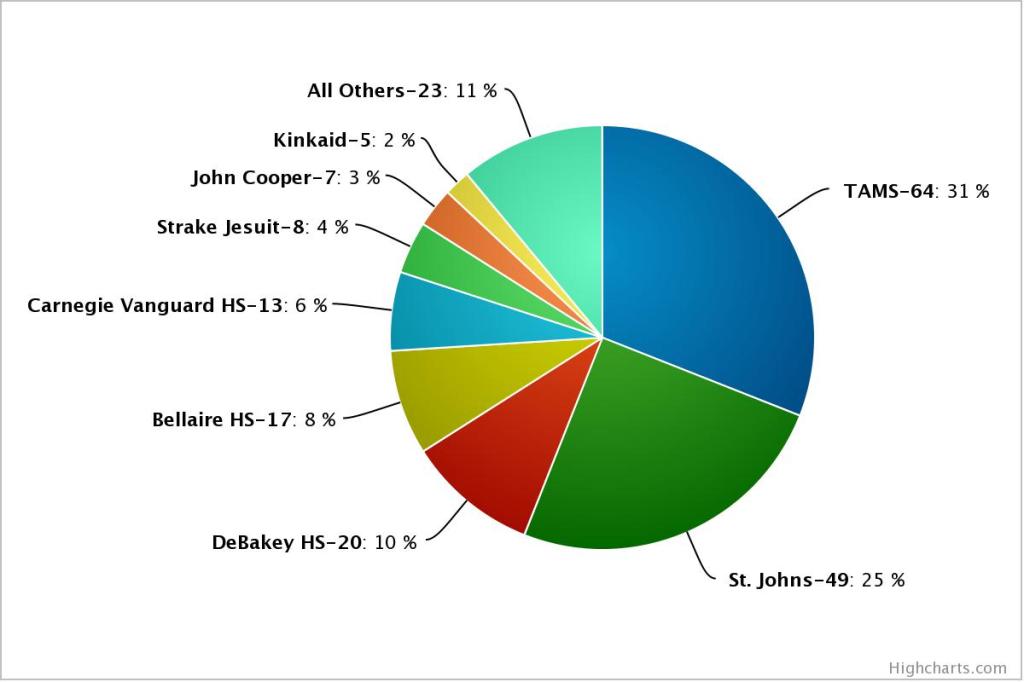 View detailed analysis including annual results by Houston area schools at our sister publication HoustonSchoolSurvey.
Version Tracking
Originally posted on 10/11/13
Updated on 12/15/14 to include 2014-2015 scores