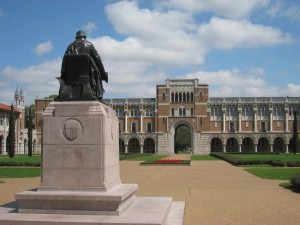 2014 was a banner year for Texas colleges and universities as several institutions throughout the state earned high rankings in nationally recognized polls listing the best higher education options throughout the country and world.
As expected, both Rice University and the University of Texas at Austin are among the most widely recognized and respected Texas schools to crack the world rankings. Rice University placed at #45 in the Nation and #82 in the World among World Universities. The Princeton Review also ranked Rice University at #7 for best financial aid, #13 for best health services, #6 for happiest schools and #2 for best quality of life among students.
Princeton Review ranked UT Austin at #10 for best health services and #8 for the best graduate entrepreneurial program. UT also ranked #28 in the Nation and #39 in the World. The University of Houston also scored high with the Princeton Review, ranking #2 for best undergraduate entrepreneurial program and #15 for most race/class interaction among students.
Texas A&M University ranked #9 for most religious students, #19 for most LGBT unfriendly campus and #1 for most conservative students. The Aggies also ranked #18 for most students to pack the stadium. The Princeton Review similarly ranked Baylor University at #11 for most religious students, most LGBT unfriendly and #20 for most conservative students. Baylor also ranked #3 for top entrepreneurial program.
Top medical schools in Texas included Baylor College of Medicine (ranked #160 in the world), UT Health Science Center in Houston (ranked #201 by U.S. News and World Report), and the University of Texas MD Anderson Cancer Center (ranking between 53-64 in the Nation).UT Southwestern Medical Center in Dallas ranked #166 and UTMB in Galveston ranked #446 in the world according to U.S. News & World.
Several colleges ranked among the best in their respective regions, including the University of Houston, University of North Texas in Denton, University of Texas at Arlington, Texas State University (San Marcos), Texas Lutheran University (Seguin), Texas Christian University (Ft. Worth), St. Edward's University (Austin), Angelo State University (San Angelo), Abilene Christian University (Abilene), Southwestern University (Georgetown), and Trinity University (San Antonio).
See the complete list of rankings from the Houston Chronicle.