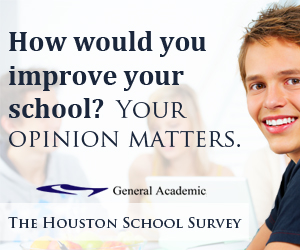 If you've been reading Thesis for a while, you've probably heard about our sister site, The Houston School Survey. You may have used it to look up details about a prospective school or read up on PreK-12 school choice advice. But did you know that the Houston School Survey also showcases the opinions of students and parents like you?
The Houston School Survey is called that for a reason – before it was a wide-ranging online resource, it was quite literally a survey. General Academic asked students, parents, and school associates about everything from academic rigor to sports programs, and used that information to compile the original Houston School Survey.
And in fact, we're still asking. Do you have opinions about your child's school that you'd like to share with other parents and the broader community? Take the survey!
Survey results are shared anonymously on school profile pages* at houstonschoolsurvey.com. Approximately 75% of profiled schools have survey results displayed. We've recently added results for eight new schools – Debakey High School for Health Professions, Fort Bend Christian Academy, Mandarin Chinese Language Immersion Magnet School, Poe Elementary, The John Cooper School, The Shlenker School, Veritas Christian Academy, and Westchester Academy for International Studies.
*At this time, survey results are only displayed for schools profiled by the Houston School Survey.