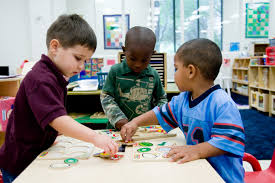 Last week, it was announced that Texas would not be among the 18 states awarded a federal Preschool Development Grant for the expansion of Pre-K programming. The Houston Chronicle's Ericka Mellon has more.
Pre-K has come to be a contentious issue within education policy; during the recent gubernatorial race, it featured prominently in both candidates' education platforms. This particular grant was controversial among some parents and teachers because it included provisions for using grant funding for school vouchers to send children to private preschools for free or at a greatly reduced cost. School vouchers in all levels of education are a hotly contested issue, with some people believing that the money would be better spent improving public schools, while others feel that it is better to help individual students get a significantly better educational experience at an alternative school.
In Houston, federally funded vouchers for select students could have saved those students' families several thousand dollars. For students who do not meet the state requirements for free half-day Pre-K, HISD offers full-day Pre-K programming at a flat fee of $4,590 per year. Independent private preschools and preschool programs at primarily K-12 schools, by comparison, are significantly more expensive. Trafton Academy offers one of the least costly private programs at $8,000 per year; at some schools, tuition for Pre-K runs as high as $20,000.
To be sure, private preschools charge higher tuition for a reason – many use expertly designed programs designed to help children develop cognitive and social skills. But of course, some of HISD's Pre-K options are quite excellent as well – notably, preschools incorporated into selective HISD magnet elementary schools often include components of the school's magnet focus. A Preschool Development Grant might have helped to make these programs even better, or, more likely, it might have enabled them to serve even more students. But even without the grant, Houston has a wealth of excellent Pre-K options, both public and private.
Parents who are looking at Pre-K options may also be interested in the Houston School Survey's advice on choosing a preschool.