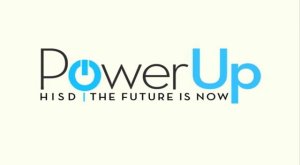 The HISD PowerUp Initiative, which began implementation in the summer of 2013, will reach a dramatic milestone in January. The three-prong initiative is intended to improve learning through technology by improving access to linked learning, creating a comprehensive web portal as a resource for students, and, most impressively, by making a laptop available to each HISD high school student.
In January, the district will make great strides toward the one-to-one student-laptop ratio promised by the initiative. 18,000 high school students from 14 schools will receive their school-issued laptops. 11 schools have already received laptops; an additional 7 schools are scheduled to receive their laptops by the end of the year, and a further 10 are to receive theirs at the beginning of the 2015-2016 school year, at which time a one-to-one ratio will be achieved throughout the district.
HISD's capacity for providing technology to students is impressive in light of the state of education technology in public schools overall. It is common for private schools – including many of Houston's excellent private schools – to provide laptops or tablets for students' use, but it is less common among public schools, in part due to lack of resources. In the case of the PowerUp Initiative, the necessary resources have been provided in part by the 2012 bond and in part by the HISD Foundation.
The HISD News Blog has more.