The Bill and Melinda Gates Foundation annually awards millions in funding to education initiatives aimed at impacting both students and policy. One of the goals stated by the Gates Foundation in regards to education are to support innovation that can improve U.S. K-12 public schools and ensure that students graduate from high school ready to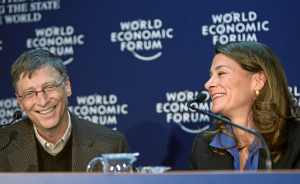 succeed in college. The Washington Post rounded up the top grant recipients from throughout 2014/
Last year, the Gates Foundation awarded grants to several associations, however a few raked in multi-million dollar grants to fund their educational initiatives. We've rounded up a few worth noting for a variety of reasons, including those dedicated to promoting and implementing college-readiness programs, Common Core State Standards and charter schools, issues that are near to Gates' heart and those which he can have the greatest impact on through his foundation. Each organization lists itself as a non-profit entity.
New Venture Fund: Founded in 2006, the New Venture Fund is a charity organization that offers financial and operational support to "innovative and effective" public interest projects. In May 2014, the foundation was awarded $10,300,300 to support the implementation of Common Core State Standards in "key states and the District of Columbia."
The Council of Chief State School Officers: The Council of Chief State School Officers states on their website that they are a "nonpartisan, nationwide, nonprofit organization of public officials who head departments of elementary and secondary education in the states, the District of Columbia, the Department of Defense Education Activity, and five U.S. extra-state jurisdictions." The organization was funded a grant to oversee and support the implementation of Common Core State Standards' 2014-2015 Strategic Plan throughout the states who currently utilize CCSS. The Council of Chief State School Officers was awarded $6,148,749.
Educause: Educase was awarded $5,100,000 to "support next generation learning challenges" and support students goals for college-readiness. They are "a community of IT leaders and professionals committed to advancing higher education."  Educause's Next Generation Learning Challenges' initiative is aimed at using investment capital to expand proven learning technologies and explore new and innovative solutions. The hope is that the program will continue "collecting and sharing evidence of what works, and fostering a community of innovators and adopters [that] will result in a robust pool of solutions and greater institutional adoption which, in turn, will dramatically improve the quality of learning experiences in the United States."
National Alliance for Public Charter Schools: Last week marked National School Choice Week (January 25-31, 2015), and with the decline of quality public school options and emergence of charter schools or "schools of choice," parents, influencers, and policymakers alike have started exploring ways to improve American education standards. The Gates Foundation awarded $3,000,000 to the National Alliance for Public Charter Schools "to advance its mission for high quality public charter schools." Click here for the organization's rundown of how public charter schools work.
Tulsa Public Schools:  The Tulsa Public Schools system earned a large Gates Foundation grant of $4,421,847 to benefit Oklahoma teachers and students alike. The district, which has recently seen some changes in administration with its first female superintendent, will utilize the Gates Foundation funding "to support organizations to develop innovative professional development systems to create personalized learning systems for teachers." They will also use their funding to "experiment with innovative modes of delivery and build the capacity at every level of the organization to design learning and direct resources efficiently and effectively" for students of the Tulsa Public Schools system.
Association of Public Land Grant Universities: In tandem with the Gates Foundation Post-Secondary Success strategies, they awarded $2,507,628 to the Association of Public Land Grant Universities for the purpose of supporting "a cohort of public urban research universities to develop new business models that can increase access, improve success rates and find greater cost efficiencies and then use national association networks to scale promising practices." Texas APLGU members include Prairie View A&M University, Texas A&M University, Texas State University, Texas Tech University, University of Houston, University of North Texas, University of Texas at Arlington, University of Texas at Austin, University of Texas at Dallas, University of Texas at El Paso, and The University of Texas at San Antonio.