The Huffington Post recently ran an article about a college student who decided to break out of her old study routines by turning her notes into art – specifically, Van Gogh's "Starry Night," recreated in impressive detail on a whiteboard. By writing out her notes in the form of an Impressionist masterpiece, she was able to think about and engage with the material without getting bored. As a result, she scored significantly better than she had on previous tests in the class.
It's a fun little story, and definitely worth a read. But more than that, it raises an excellent point – who says studying has to be boring?
While many students study only when cramming for tests – a strategy that doesn't work as well as one might think – the real purpose of studying is to learn and master the concepts at hand. And for many students, the flashcards and notes packets commonly used in last-minute cramming simply aren't the right tools for really learning the material.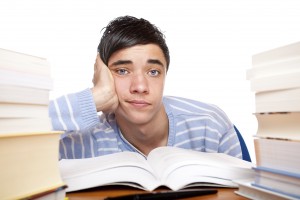 It's well known that students learn best when actively engaged in the learning process – through interest in the content, or through interest in the manner in which the content is being transmitted to them. So if your child just doesn't seem to understand or retain material when studying in the conventional way, try something unconventional. It doesn't necessarily have to be a work of art – any activity that can catch and hold your child's attention can help with comprehension and long-term memory. For most subjects, a quick Googling should yield a wealth of ideas and resources for comprehension-enhancing activities you and your child can do – for example, these biology modules. And if you'd prefer something less time- and effort-intensive, other options include educational games, like the ones discussed in this article, or online videos that make learning relevant to teens by referencing pop culture.
Ultimately, studying is about learning, and having fun makes learning easier. So don't be afraid to let your child get creative when preparing for the next test.