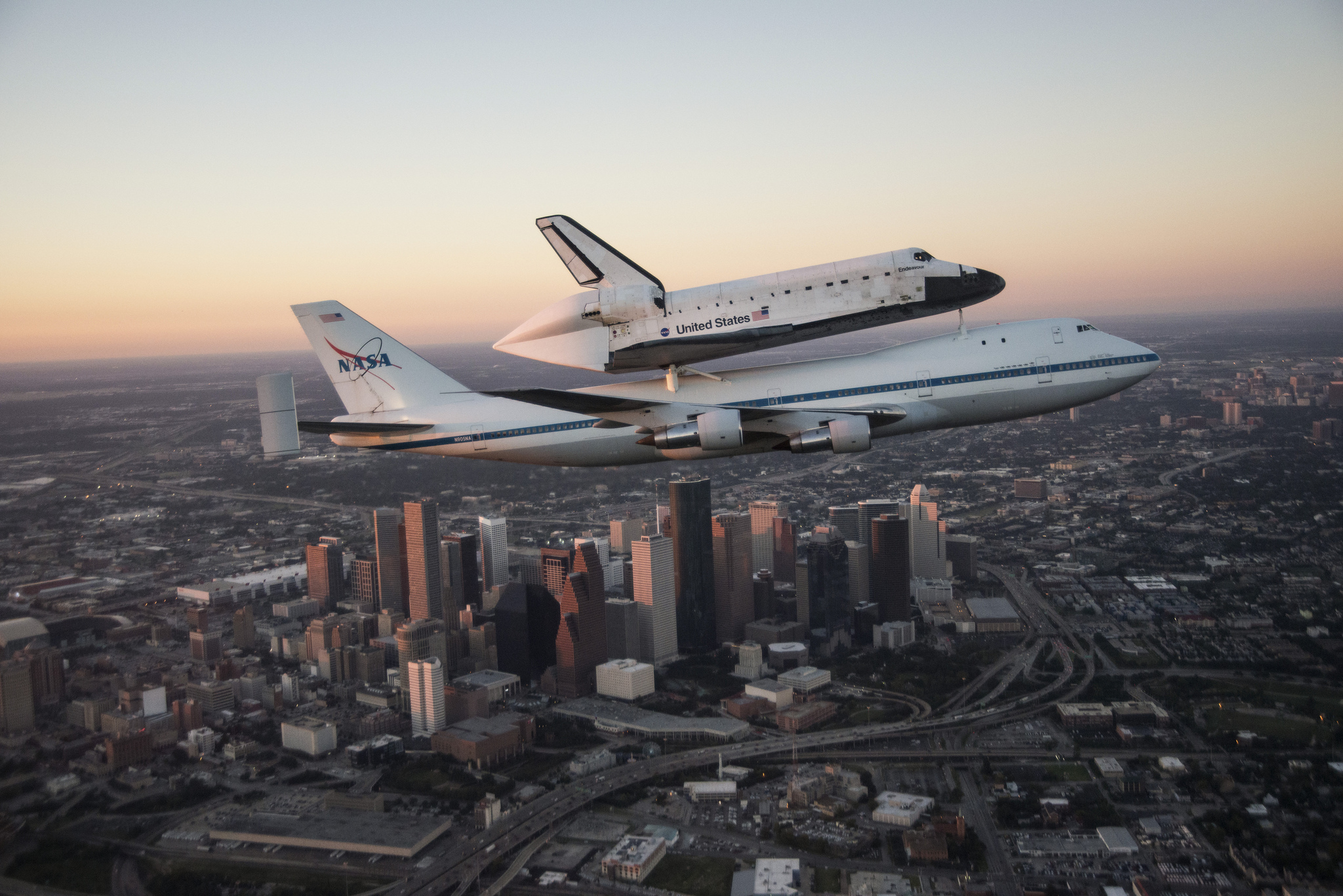 Houstonians like me are excited to welcome you to the nation's fourth largest city, our home, for Super Bowl 51. I have lived and traveled extensively throughout the US, Asia and Europe, but am proud to call Houston my home and excited to show it off to you.
(Space Shuttle Endeavor and Carrier via NASA)
To do everything in this guide will require three full days excluding the Super Bowl itself; therefore, it's best for people who are planning to spend at least four full days in Houston. I suggest arriving Wednesday evening on February 1st and leaving Monday morning on February 6th.
Let me start by telling you about the Houston psyche. We're proud of our city but not boastful. We know that we don't have snow-capped mountains or crystal blue oceans, but we do know that this swamp is still a great place to live. According to U-Haul, Houston has placed as the #1 relocation destination in the United States for seven years in a row.
Houston is also a diverse city attracting people from all over the world. More than 20% of all area residents are foreign born, or approximately 1.34 million people. 10% of Houston residents were born in Mexico, and many more come from Latin America and Asia, especially Vietnam and China. 92 countries have consular offices in the city, the third most in the nation.
Houston is big, thriving, and cosmopolitan. This guide will take you on a walking tour of beautiful parks and vibrant urban spaces, into world-class museums and institutions, and through unique cultural spots and local hang outs.
Top Ten Houston Attractions in this Guide
Buffalo Bayou Park
Main Street / City Hall / Downtown
Discovery Green / Super Bowl Live / NFL Experience / ESPN Fan Zone
Museum District / Museum of Fine Arts / Museum of Natural Science
McGovern Centennial Gardens / Hermann Park / Houston Zoo
Rice University / Turrell Skyspace
Rice Village / Upper Kirby
Space Center Houston
The Galleria / Waterwall
Chinatown / Montrose / The Heights / River Oaks
Houston Day 1 – Walking Tour, Downtown, and Super Bowl Fan Fest
On my first day in a city, I like to do a lot of walking to get a feel for the place. Today's itinerary involves about 3 miles of walking through and ending at beautifully developed parks; you won't need a car or a train the entire day. Start by getting breakfast at The Dunlavy, which overlooks Lost Lake inside of Buffalo Bayou Park.
After breakfast, walk a few minutes to the middle of Jackson Hill pedestrian bridge and take a picture of Houston's amazing skyline; this is one of the best spots. Now walk under the "Bat Bridge" under Waugh Drive and make sure not to get pooped on. After observing the bats, continue walking east along the bayou towards downtown.
Along the way, stop and admire the art installations including the Gus Wortham Fountain across from the AIG tower, Tolerance Statues just after the Montrose
bridge, and the Spindle sculpture across from the Federal Reserve Bank. And if you just realized that your finger was covering the lens during your first skyline photo op, stop at the Rosemont Pedestrian bridge after Montrose to try again.
In the likely event you're doing this walking tour on a Wednesday, Thursday, or Friday, you might want to cross the bayou at Sabine street to visit the Buffalo Bayou Park Cistern. The cistern was an underground water storage facility built in 1926. Today it's an eery but cool place to view art installations.
As you approach the Interstate 45 overpass that loops downtown, continue to walk on the pedestrian path along the bayou and take a picture of the Buffalo Bayou Torch, which is on one of the interstate's supporting columns. Walk under the interstate and cross into Sam Houston Park heading towards Bagby and McKinney streets. Houston City Hall and Houston Public Library stand on either sides of McKinney.
Continue walking east along McKinney, passing Hermann Square on your left. At Louisiana street, turn left and walk for three blocks until you get to the intersection of Louisiana and Capitol, which marks the center of the Theatre District. On the Southwest corner is the Bank of America building at 700 Louisiana, forever ingrained into my memory as a landmark from Sim City 2000.
Walk across the street into the center of Jones Plaza. To your east is the Houston Symphony at Jones Hall. To your west is the Sundance movie theatre. To your north is the Alley Theatre and somewhat obscured to the left of the Alley Theatre is the Wortham Theatre, home of the Houston Grand Opera.
During your Super Bowl Stay, only the Houston Symphony and Alley Theatre are performing.
Now walk north out of Jones Plaza to Texas Avenue and head east. Your first landmark is the really tall building just behind Jones Hall. This is the JPMorgan Chase Tower, which at 75 stories and 1002 feet is the tallest building in Texas and 15th tallest in the United States; the funky sculpture in front is entitled "Personage and Birds" by Joan Miró. Unfortunately, there's no publicly accessible observation deck, lounge, or bar.
Walk another block east and you'll hit Main Street. Main Street was the center of a revitalized Houston downtown starting with Super Bowl 37 in 2004. Looking towards Main Street, you'll see the Rice Lofts on your left.  Now an expensive apartment building, it was originally a hotel built in 1913 before closing in 1977. It went unused until it reopened as an expensive apartment in 1998.
As you're admiring Main Street, try not to get hit by the train! The light rail in front of you was built in order to shuttle visitors from downtown to what was then called Reliant Stadium. For transportation wonks, the train is the Siemens S70, which is also used in San Diego, Charlotte, Portland, St. Paul Minneapolis, Atlanta, and Seattle (in addition to plenty of variations throughout Europe).
If you're starting to feel hungry, there are plenty of options downtown for lunch. Just ask Siri, Google, Alexa, or Cortana for assistance. However, this walk will take you right by Sambuca (South American), Azuma (sushi), Flying Saucer (gastro pub), Morton's Steakhouse, and Pappa Brothers Steakhouse. McCormick and Schmicks and the other options at Green Street are just a two block detour. Additionally, you know that the "free music festival" at Discovery Green will have plenty of fast food options, but there's also the upscale Grove (American) right inside the park.
Walk south along Main Street for four blocks until you get to Main Street Square at McKinney; turn left to head east. After five blocks you'll be at Discovery Green Park, which fronts the George R. Brown Convention Center and is your Superbowl pre-game headquarters!
You'll probably want to spend the afternoon taking in all of the special Super Bowl activities around Discovery Green including the Super Bowl Live free music festival, the "Future Flight" thrill/ VR ride, the NFL Experience, and ESPN's Fan Zone.
If you want to try to see some of the football players, they and their support will probably be hanging out at the brand new Marriott Marquis, which is the 1000-room hotel on the north side of the park. It sold out for the Super Bowl even before it received an occupancy permit. But next time you're here, you should really try to get a room if only to lounge on the rooftop lazy river shaped like the state of Texas.
After you've gotten your fill of Super Bowl special events in the afternoon, you'll wonder what to do with yourself for the evening. If it's not too hot outside, I recommend ice skating (for Falcons fans, Patriots fans will probably find the rink laughably small), which you'll find on the north side of Discovery Green. If you want to get some culture in, you can double back to the Theatre District to catch a show at the Alley Theatre or Symphony (buy tickets in advance). In particular, Yo-Yo Ma is playing at 7:30pm on February 4.
For dinner, the new hot spot is supposed to be Xochi at the Marriott. But if you're feeling traditional,  the energy executives love pumping money over steaks at Pappa Brothers, Morton's, and McCormick and Schmick's.
Now it's 10pm and you're feeling cultured after enjoying the world's preeminent cellist. The night is still young! You can continue resting your weary legs by catching a movie at the reserved-seating Sundance movie theatre or you can get your drink on at the numerous bars and clubs along Main Street (look for my college buddy's name on the wall at the Flying Saucer). After a few drinks at Main Street, you could take the light rail to the bars at Midtown or get a ride to Washington or the Rice Village.
Houston Day 2 – Museums, Parks, and Super Bowl VIII
As the fourth largest city in the United States and home to very profitable & philanthropic energy, biotech, and healthcare companies, Houston has great museums. Assuming you're smart and staying downtown or at my AirBNB near the light rail, you probably won't need a car today either. In fact, a car will probably just be a parking liability.
Start your morning by heading to the Museum of Fine Arts, which has an excellent permanent collection of something for everybody. If you've got kids in tow; however, they might prefer going to the Children's Museum.
Wow, everybody gets hungry earlier after going to a museum don't they? Your best bet is to avail yourself of the options offered by the museums themselves unless you're also planning to go to the zoo, in which case there are more options there too. There are also great options just across from the Children's Museum including Barnaby's (casual American) and Dak and Bop (Korean).
Next up, I recommend going to the Museum of Natural Science, which in particular has an excellent new dinosaur hall, fancy displays about drilling for oil, and a beautiful butterfly garden. But on your way, don't miss the Mecom Fountain, which is one of the most photographed spots in the city, and is a particular favorite for newly weds, quinceañeras, prom goers, and drunk Rice University students. Just watch out for all the cars.
After you've gotten your fill of museums, walk across the small parking lot in front of the Natural Science Museum to the McGovern Centennial Garden. The McGovern Gardens only opened in 2014 and have a lot of cool attractions including a climbable mound/ water feature that resembles a Mayan burial hill, a Japanese garden, roses, and lots of sculptures. It's free.
Now let's go to the Health Museum just across the street! Or if you're tired of museums, continue enjoying the outdoors by walking into Hermann Park. This 445-acre, well-maintained park in the middle of the city is home to a pretty lake, an outdoor theatre, the zoo, and a golf course. I highly recommend taking in the reflection pool, lake, and Japanese garden.
Continue enjoying the outdoors by heading to the Houston Zoo to check out the fancy new gorilla exhibit, feed the giraffes, walk among the trees, and ride the carousel.  The really tall buildings you see while in the zoo are part of the Texas Medical Center, the largest medical center in the world. Hopefully you won't need to visit anytime soon.
After you've gotten your fill of the animals, walk out of the zoo and out of the park going west towards Rice University. Rice is consistently ranked as one of the top 20 universities in the nation, a top value, and home of the happiest undergraduates.
More importantly for you, Rice's $5.5 billion endowment means it has a really pretty campus with beautiful live oaks and fancy buildings. Ask a student for directions to "Willy's Statue," which is in the heart of the academic quad, where you can take a picture in front of the Sallyport. Then turn around and walk around the library to get a snack and coffee at the glass Brochstein Pavilion.
While you're enjoying your coffee, contemplate these two things – war profiteering and personal butlers. The university's namesake, William Marsh Rice, made his money by selling weapons to both the North and the South during the civil war. And the university almost didn't get the money because Marsh's evil butler schemed to steal it for himself.
After enjoying your café stop, continue following the walkways southwest to the Baker Institute, which is unlocked during business hours. In front is a fancy fountain and inside you'll find lots of memorabilia from former Secretary of State under George H.W. Bush James A. Baker. Walk through the main floor to the back, and you'll see a section of the Berlin Wall.
Now head back towards the front of the Baker Institute and walk towards the enormous building with lots of columns. That building is the Shepherd School of Music, which is consistently ranked one of the top 3 non-conservatory music schools in the nation.
Along the way, enjoy the artwork and of course stop to admire James Turrell's "Twilight Epiphany" Skyspace, which looks again like a Mayan burial mound. If you time your walk right, you can enjoy the free light show at sunset.
Continuing your walking tour through Rice – did I mention I was once a student tour guide – southwest through the Shepherd School (again, it should be unlocked during business hours) and exit on the other side looking out towards a sea of asphalt parking lot – and – the home of 1974's Super Bowl 8, Rice Stadium!
Rice Stadium seats 70,000 people (just 2,220 fewer than NRG), and if you took every Rice student or alumnus living or dead, we wouldn't be able to fill it up. Also, John F. Kennedy delivered his famous "We choose to go to the moon" speech here in 1962. The stadium should be accessible; just look for the entrance sign.
Now exit the stadium and walk southwest to University Boulevard and follow this street west towards Rice Village. On your right, you'll pass the bike track, which is where once a year the students drink a bunch of beer and race around the track in what's known as "Beer Bike." Just because they're book smart doesn't mean they're street smart.
Continue along University and cross Greenbriar then Chaucer then Morningside. At the intersection of Morningside and University, look out for drivers turning right. I was nearly run over here several years ago.
Welcome to the Rice Village. "The Village" is kind of like your typical college town. On one hand it caters to the relatively poor college students but on the other hand it thrives off of the rich people who live just across the street in the affluent West University neighborhood. There are a lot of chain clothing stores in addition to little mom and pops.
Again, you can ask your digital assistant of choice for restaurant recommendations, but the one that I've gone to almost weekly since arriving in Houston in 2003 is D'Amico's, which is casual Italian. If you want fancier Italian, Prego is just down the street. Torchy's Taco's is kind of an institution (from Austin), and there are some fancier restaurants in the Hanover development including Coppa Osteria (Itlaian), Punk's Simple Southern, and Cyclone Anaya's (Mexican).
Alternatively, just a 2 mile car ride up the street in Upper Kirby is the posh West Ave development where you can find high end fare like Eddie V's (seafood), Del Frisco's (steak), Pondicheri (Indian), and CRU (wine).
Once you're full, the Village is one of the popular drinking areas in town. Most of the bars (Gorgeous Gael, Ginger Man, Little Woodrow's) are on the east side of Morningside. Of course, you can also catch a show downtown or head to Montrose, Midtown, Main Street, or Washington to continue the party well into the night.
Driving Day 3 – NASA, Shopping, and Neighborhoods
For your third day in Houston, it's time to hop in a rental car or hire a driver. It's kind of wrong to come to "Space City" and not go to NASA, so your first stop is to drive 30 minutes southeast along Interstate 45 to NASA's Space Center Houston. You'll easily be able to spend several hours here learning about all things space. Highlights include spacecraft like Gemini V and Apollo 17, the Boeing shuttle carrier, and the behind-the-scenes tram tour.
If you plan to go on a Friday, you can also have lunch with a real live astronaut ($70 for adults, $36 for children 11 and under). Otherwise, you're probably going to want to eat lunch at the space center's cafes or at a chain restaurant along I-45 on your drive back into Houston. Or if you had a really big breakfast, you might be able to hold your hunger until you visit the Galleria (unless you'd rather visit the amusement park at Kemah Boardwalk).
Only incorporated in 1837, Houston is a young city. Before we grew into our fourth largest city status and developed great attractions like beautiful parks, museums, national sports franchises, and world-class performance venues and companies, all we had to do with our oil money was to go shopping. So your next stop is to Houston's monument to retail, the Galleria.
Let your credit card company know where you are, because the Galleria will help you spend everything you didn't already spend on your Super Bowl tickets. There are more than 350 stores here ranging from H&M to Macy's to Neiman to Sak's to Tiffany's.  Of course, there are plenty of dining options including the food court and stand-alone restaurants like Kona Grill, the Oceanaire, and the Cheesecake Factory.
When your credit card company cuts you off, head outside again and cross Alabama on foot towards the Williams Tower, which at 64 stories and 902 feet is the second tallest building in Houston. Like the Chase Tower, there's no place to enjoy a drink and the view, but you can walk directly south of the tower to the Gerald D. Hines Waterwall Park. Here you can stand in the middle of this 64-foot semi-circular fountain and just feel the awesome power of 78,500 gallons of water falling 20 feet around you.
Once you've finished with the Waterwall, head back to your parked car and decide where you want to drive next. I think you should visit one of the more interesting but less accessible neighborhoods like River Oaks, the Houston Heights, or Chinatown.
River Oaks is arguably the richest neighborhood in Houston. If you decide to drive through, it will be just to gawk at the mansions. The Heights is essentially a small town, which is novel because it's a small town in the middle of the 4th largest city in the US, and it has a beautiful "Rails to Trails" bike and walking path. I recommend going to Chinatown (note that I'm an ABC who has lived in Beijing and Shanghai).
As a district or a neighborhood, Chinatown isn't that impressive. You won't find a fancy gate to take a picture with, and it's not so dense that it feels like walking around in Hong Kong. However, like every other place I've taken you to so far, you just need to pick the right area to park your car and have a good time.
First off, the best Chinese food is probably at Fung's Kitchen right off of I59 at Bellaire Boulevard. By best, I mean, the most authentic, the freshest seafood, and the most talented chef. This is fancy Chinese; it's most popular for Dim Sum during brunch on Saturdays and Sundays; however, you can also skip the crowds and get a great dinner (and order dim sum a la carte) any time you want. If you go, you have to get the Peking duck.
Fung's just off the highway location is both an asset and a demerit. If you want to get great Chinese food without driving too far, it's the perfect location; however, if you want to experience more of Chinatown, you'll need to follow Bellaire Boulevard several miles west.
I recommend driving to the Dun Huang Plaza at the southwest corner of Bellaire Boulevard and Corporate Drive. Dun Huang is kind of like the Galleria of Chinatown on a much smaller scale.
At Dun Huang you can park the car and take your pick of any number of Asian restaurants. You really can't go wrong with any place here, but the places I go to regularly include East Wall (Cantonese), Mamak (Malaysian), and Nu Café (dessert). A typical night in Chinatown for me includes dinner, dessert, and foot massages.
If you haven't had a Chinese foot massage, you're missing out. For about $20 plus tip (I do $10), your masseuse will soak your feet in a hot water bath while massaging your head, shoulders, and arms. Then they'll massage each foot individually (while the other foot remains warm in a towel). To finish up, they'll ask you to turn over for a ten-minute back massage (you keep your clothes on). The whole experience lasts a full hour. There are at least five massage places in Dun Huang, but I've had great experiences at Canyon, Oasis, and Lilly. You can also get western style massages for low prices too.
So now you're full and relaxed, but the night is still relatively young. Since you're in Chinatown, I recommend renting a private karaoke room with your friends at one of the KTV places and singing and drinking the night away! But if that's not your thing, hop back in the car and head back to the hot spots of Downtown, Midtown, Washington, Montrose, or Rice Village.
Where to Stay for Super Bowl 51
Unless you want to experience first-hand 22 lanes of traffic on the nation's widest highway during rush hour, I recommend that you stay close to the city center, which is where most of the Super Bowl action will be anyway. In particular, neighborhoods within walking distance to the METRORail's Red Line are your best bet to avoid frustrated commuters and tourists alike:
Downtown – walking distance to most of the Super Bowl fan events and the METRORail to get you to the game at NRG Park
Midtown – the hot spot for bars and restaurants and walking distance to the METRORail
Galleria – a shopper's paradise and serviced by a cheap shuttle to get you to Downtown, Midtown, & the Game
Medical Center – along the METRORail and close to NRG Park for the Game
Inside the 610 Loop – just anywhere else inside of the interstate that rings the heart of the city
The most desirable hotels (like the JW Marriott, Marriott Marquis, Hilton Americas, Four Seasons, Hyatt Regency, Westin Downtown) were booked up at least six-months in advance by the NFL, support staff, and other people who were going to be in town regardless of what teams were playing. Therefore, AirBNB, VRBO, and the like are going to be your best bets.
Recommended AirBNB Listings (Note that I receive very direct compensation)
A Local's Driving Directions to the Galleria from NASA
Take the Newcastle Drive exit, which is the last exit on 59 before 610 (bypass the long line of parked cars who are waiting to get onto 610 because they don't know this route).
Follow the feeder road to Richmond Avenue and turn left at the light to Richmond. Continue west on Richmond until you hit the light at Sage.
Turn right on Sage and head north until you get to West Alabama.
Turn right onto West Alabama and look for the stop light at the pedestrian cross walk in front of the Banana Republic (right side).
Immediately after the cross walk is the entrance for the "Green Garage." As you turn in, you can't see anything, but just trust that no one is going the wrong way on a one way entrance and you'll be alright.
A Local's Driving Directions to Chinatown from the Galleria
From I-59 exit Bellaire and turn right onto Bellaire Boulevard
Drive four miles until you hit Corporate
At Corporate, turn left.
Drive about 1 block until you see the entrance on your right before East Wall Restaurant. If you see Bush Elementary on your right, you've missed it.
Inside the parking lot, take the first right and follow that driveway into the garage, where you'll be able to find parking on one of its many levels. Parking is free.
Shelby Joe is the President of the academic consultancy General Academic and Founder of online learning site Piqosity.com and enjoys traveling in his free time.