A Growing Expatriate Community Gives Rise to Many International School Options
Houston is a wonderfully diverse and cosmopolitan city and home to many nationalities and international companies and entities.  With a growing international and mobile workforce this growth has given rise to an increased demand for international schools.
These schools facilitate students' international mobility as most importantly, the consistent curriculum provides continuity and a smooth transition into the school and, if applicable, onto the next international school in whichever continent of the world the student might be. Many nationalities and cultures are represented in these schools both with the student body and teachers. Such diversity is the norm and in this international learning environment a student naturally acquires the open global mind-set, and embraces and respects the rich cultural diversity with friends from all over the world.
However, the appeal is not only to Houston expats but increasingly to local Houstonians who recognize that an international school choice can provide a broadening and rich education along with the international atmosphere, and in order for a graduating student to be competitive, a more global perspective is a plus. The world is seen as interconnected for education and mobility in the same way as the corporate world.
Students graduating from IBDP (International Baccalaureate Diploma Programme) and international accredited schools go on to study at institutions all round the world and have interesting global career opportunities.  The college and careers counseling departments in the international schools are well versed to help students apply to US and non US institutions and the IB is an internationally recognized qualification that is highly regarded both as a challenging and rigorous academic program.
When children are small, for a transferee to Houston a local American school experience can be enriching and some families do indeed want to have a more 'local' experience.  However once a child is of an age where continuity of curriculum is important with a nomadic expat life, or eventual returning to a home country education system, an international school facilitates this academic path.  .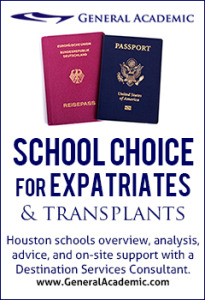 In Houston there are at least three private international schools – pre-K through high school, all of which offer IB, but each has its own individual flavor and curriculum offers. English is the common language of instruction in international schools although not all students are native English. The IB especially has a strong emphasis on a second or native language. (The exception is the French section which operates within the framework of Awty as a french speaking school leading to the French Baccalaureate). They come with a price tag comparable to other Houston private schools and for the corporate world, facilitating access to international schools can be key to family mobility.
The Awty International School: 
International section leading to the IB
French section – administered as a French school and leads to the French Baccalaureat
The British School of Houston:
Academic program based on the International Primary Curriculum, the National Curriculum for England and Wales, and the International Baccalaureate Diploma Program.
Additionally, it is in the process of offering British A-Level courses by September 2014, which would make it one of the very few schools in the United States to do so.  BSH is part of World Class Learning Schools.
The Village School:  
IB school that offers a boarding option
Opportunities through the Meritas Elite Boarding Program.
Public High Schools:
Public High Schools where IB is offered can be an excellent option – found at Bellaire High School, Lamar High School, and Westchester School for International studies (Public Charter School).
The private Post Oak School and St Stephen's Episcopal are IB candidate schools currently going through the IB accreditation process and should be offering the IB program for the 2014 academic year at 11th grade.
A Destination Consultant Can Help 
So! What would your reaction be if your working partner announced the exciting news of an imminent move to Houston for the family?
If you are a seasoned expat, you might sigh and think "Here we go again, let's put things in motion!"  With school age children you might quickly research 'International schools in Houston, Texas' as schools and housing are usually top priority in any move.  Your children might already attend an international school in a non English speaking continent, where they will be following an internationally recognized curriculum. You know that moving between international schools can keep the continuity in your child's education.
Or, if you had never moved overseas before, your reaction might be 'Oh, this could be exciting, but where do we start?  What do we do for the children's schools, finding a house, finding the right area, finding where to go…?'.  And so many other questions!
In both situations you would benefit from using a local Houston consultant providing destination services and education assistance.  Some companies routinely provide this local support to assist with a successful move.
A consultant would discuss your child's current education, academic needs and interests, and explain school options from first-hand knowledge of Houston and the international schools and local schools.
This personal support continues through the school choices and application processes from overseas, and appropriate residential areas accessible to the school or on bus routes and for work commute.  If you came on an orientation visit your consultant would set up the school visits and could accompany you, and afterwards go through your assessment and options to find the best choice for each child.
Recommendations
I would recommend being very timely with application requirements and deadlines and if local, attending information sessions and Open House dates.   An admission department will review an application once all required application elements are submitted, which including the application form, teachers' recommendations, personal statements, student details, any required testing results, and the initial non-refundable moderate application fee.  This can take time to gather together, so allow sufficient time.  All can be submitted electronically and testing can be set up at overseas locations.
In an ideal world, an expat  family might love to get a year to plan for a move. In the real world, and I know from personal experience, this is usually wishful thinking! Many families only get a few months' notice, if that, and sometimes have unavoidable mid academic year moves. The International schools are familiar with this transient lifestyle, and overseas applications received during the year would be considered on an individual basis depending on spaces available.
Finally, even if you are coming from overseas, whenever possible, do try to plan actual visits to the schools, preferably in term time. Each school is different, and you as a parent are looking for the best fit for your own child where they can thrive and be happy.
What is the International Baccalaureate or IB?
The IB Diploma is recognized throughout the world by university/college admissions not only as a very rigorous qualification but also as educating students in the mindset of the IB Mission Statement. The IB aims "to develop inquiring, knowledgeable and caring young people who help to create a better and more peaceful world through intercultural understanding and respect."
IB Diploma, students studies six subjects, three Higher Level and three Standard Level courses comprising a first language, second language, math, science, social science, and an IB elective.  There is also a 150 hours requirement of CAS (community, action, and service), an Extended research essay of 4000  words, and 'Theory of Knowledge' course component.
For more information see www.ibo.org
About the Authors
Jane Vaucher, founder of Settle Houston, is a trained and experienced destination consultant and education advisor. She is British and worked in London for an oil service company after graduating from Durham University.  She met her husband while working in France and has successfully moved the family in a number of international assignments – twice into Houston which is now home for her family. Jane speaks fluent French and her three children were born each in different countries overseas, and educated in French and international schools leading to the French Baccalaureate and International Baccalaureate (IB). Jane loves continually discovering more about Houston and helping families settle successfully in Houston!
Jane has partnered with General Academic to offer comprehensive school options consulting to expatriates. Learn more about this service at GeneralAcademic.com.
Further Reading – School Profiles
Revision History
8/14/13 – Article published
12/15/14 – Updated