The internationalization of Houston schools continues its rapid pace, both in the number of existing schools that are offering International Baccalaureate curriculum and in new schools that are under construction dedicated to the concept.
Currently there are 10 high schools in the Houston area that offer an IB program, up from three in 2000. Two more  -Post Oak High School and St. Stephen's High School – will offer an IB curriculum in the 2014-2015 school year, bringing the total number to an even dozen.
In addition to the increasing number of schools, the size of schools offering IB programs has been increasing as well.
"All schools are growing fast," said Jane Vaucher, who is affiliated with Settle Houston, an organization dedicated to helping international professionals and their families. In the interview, Vaucher also said that the schools were getting a greater number of applications for their spots.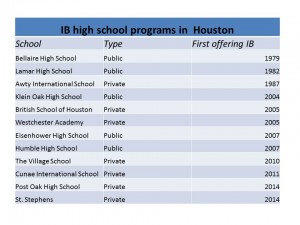 IB programs differ from traditional American high school programs in a number of ways. The IB diploma is a comprehensive program and organized around thematic areas. Core requirements include a course on learning called "Theory of Knowledge" –taken by students in every IB program across the world – an independent research essay, and extracurricular activities.
Behind theses core requirements, students take one subject-area course in the subject areas of native language, a second language, Individuals and Societies, Experimental Sciences and Mathematics and Computer Science.  A sixth course can be taken in any of these subject areas or in the arts.  To obtain a diploma, three of these courses need to be higher-level classes.  To obtain an IB diploma, students need to complete the requirements and pass exams in their six courses.
Advantages of the IB diploma program include its portability to international education, making it extremely desirable to both Americans who might need to move their families abroad and residents of other countries looking for a transferable educational experience for their children in the United States.
Vaucher noted that some Houston schools offering IB diplomas were specifically targeting the large population of international families in the region.
In contrast to the diploma, the IB certificate allows students more flexibility in selecting courses and is more like a traditional American-style  Advanced Placement program.
Jane Manchon contributed reporting to this article